Content Marketing, from Strategy to Development and Distribution
THE ART OF STORYTELLING (AOS) is a communications company based in the Republic of Trinidad and Tobago. Our focus is on finding and unlocking the narratives – the stories – that lie behind every brand; well-crafted, engaging stories designed to hold the attention of audiences and transform relationships. We take care of Branded Content, Edutainment, Advertising, Organic and Paid Media, Content Management, Research, Writing, Social Media & Analytics, Distribution, Digital Asset Management, App and Database Development. AOS' in-house team of photographers, filmmakers and multimedia specialists are leaders in their fields.
We are a holistic marketing solution with 100% follow through.
Click here for Business Stories – a transmedia service for SMEs.
---
AOS Showreel 2016 – (5 min)
This reel underscores the diversity of our work in recent times. Vimeo has the full list of clients and collaborators.
---
The Edge – Bruce Anderson  |  Natural Humanship – (3 min)
In the round pen the horse becomes a metaphor for life's challenges. Our newest film project explores the work of Bruce Anderson & Natural Humanship – an idea that has the potential to bring us all back from The Edge.
---
Togetherness – Nation Branding Pitch – (3 min)
As part of a nation branding pitch to government we have begun work on a documentary that focuses on the key ingredient to T&T's success, being guided by countless interactions with ordinary people in every sector from energy to tourism, communications, business, social responsibility, education, festivals, conservation… a modern narrative for Trinidad & Tobago that's powerful, relevant and built for social media and brand integrations.
---
Official Country Investment Pitch – (3 min)
Experience Trinidad and Tobago's investment potential through the eyes of executives and analysts immersed in the country's engine room. The brief here was to provide a deeper look into some potential opportunities and meet some of the stakeholders responsible for driving sectors forward.
---
National Petroleum – Rebranding TVC – (1 min)
The script contained simple words like 'flag' and 'athlete'. We filmed the flag while hanging from a crane 150 feet over the National Stadium and asked Olympic Medalist, George Bovell to swim up to the Paria waterfall.
---
Shape the Community – (5 min)
Inspiring reactions from kids, coaches, mothers and elders to the Shape the Community programme where the lines are blurred between coaching and counseling. An example of what we do in stakeholder relations and social development. Produced for the Trinidad and Tobago Olympic Committee.
---
Tourism Development Company – Cruising B2B Video – (3 min)
The brief for this video came with two target audiences: cruise line operators and the travel agencies who promote them. How do you mix hardcore port facilities with information on the country's tourism product? You cast an adventurous little traveller and a discerning ship's captain and transition between their unique worlds to the sound of steelpan and sitar.
---
Chris Dennis – Between Worlds Video on Demand – (45 mins)
The world of competitive surfing, like so many sports, is generally dominated by those who can afford to play; afford to win; afford to lose. It's a money thing. Yet every so often there comes an athlete who, by sheer determination and natural talent, steps outside of the boundaries and shatters the prerequisites to success. Born and raised in rural a Caribbean village in Trinidad, Chris Dennis has gone against all odds to ride the wave of competitive surfing internationally. Chris now mentors a squad of kids in Balandra, Toco and Sans Souci, teaching life skills as well as how to shred!
---
Workspace
Our studio is situated in the new wing of the Normandie Hotel, just walking distance from the Savannah, Queen's Hall and the Hilton. We offer a 16ft wide cyclorama, sound room, 4K capture, underwater equipment and a modern 5-seat editing facility running Adobe Creative Cloud. The studio was conceived by James O'Connor who is Creative Director and Senior Producer. James creates communications strategies centered around a brand's narrative and then leads production teams to deliver consistently outstanding digital marketing results.
---
Talent / Network
Dylan Quesnel, Anthony Fung, Kevin Huggins, Kacie Gonsalves, Russel Dos Ramos, Samantha Scotter, Oliver Milne, Matthew Mora, Marcus Gomez, Shane Hosein, Hugh Blanc, Norris Blanc and Luis Sanches are regular contributors.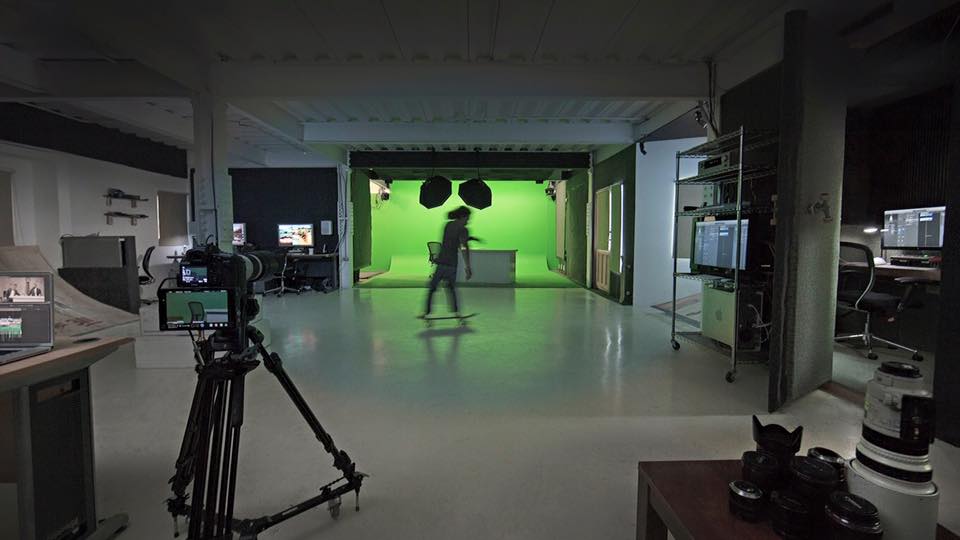 ---
High Fives!
We've created content for some of the biggest brands in the world including Red Bull, United Nations, BP, Atlantic, Methanex, Nestlé, Ernst & Young. For Governments and state agencies we create, and regularly contribute to, global campaigns that serve to promote inbound tourism and investment in Trinidad and Tobago and other Caribbean destinations. We have a great relationship with our clients and their media agencies. Relationships come first.
"James and his team are reflective of true team spirit and have the ability to take charge, motivate and inspire all with whom they work… achieving only the highest quality… and the ability to interact and dialogue with us to achieve our marketing and promotional objectives."
Greer Assam, Cruise Sector Specialist
Trinidad and Tobago Tourism Development Company Ltd.
Level 1, Maritime Centre, #29 Tenth Avenue, Barataria, Trinidad
"We have worked with James on numerous occasions over a number of years on many of our most important clients. We have always found him and the company to be extremely creative, efficient, punctual, honest, friendly, calm and responsive. James is, in our opinion, one of the top directors in the region…"
Russ Jarman Price
Chairman, Inglefield Ogilvy & Mather
Fernandez Business and Industrial Center, Trinidad and Tobago
"I was very pleased with the way the team interacted with TTOC's staff members and other stakeholders and the care and passion with which they approached their jobs. This included conceptualization of what was required, filming throughout the year and producing the final product."
Larry Romany
CEO, Caribbean Association of National Olympic Committees
Trinidad and Tobago Paralympic Committee
c/o Jean Pierre Complex, 

Trinidad & Tobago
"(the studio's) thoughtfully conceived campaign, "Big Moves by Paramount", neatly connects the dots from prospective multinational clients to local branding and PR. We are happy to recommend jtography ltd. as a communications provider."
Ian Lutchmansignh
CEO, Paramount Transport and Trading Company Ltd.
44 Maharaj Street, Marabella, Trinidad and Tobago
"I have known the director, James O' Conor for several years. Most notably we worked together for CHOGM and the Fifth Summit of the Americas, as well as one-off projects for companies such as BPTT and Ernst & Young to name a few. As our paths have crossed several times over the years, I have come to know James and his team on both a personal as well as professional level, and have a great appreciation for their technical knowledge, professionalism as well as their attention to detail."
Roxanne Pantin
CEO, iCreate Events Ltd.
5i Fitt Street, Woodbrook, Trinidad and Tobago
"Digicel Trinidad and Tobago Limited has been working with jtography for the past three years to tell the story of our Corporate Social Responsibility and our involvement in Trinidad and Tobago's culture. We have found jtography's delivery of service to be very professional and consistent."
Simone Martin
Head of Marketing, Digicel Trinidad and Tobago
ANSA Centre, 11c Maraval Road, Port of Spain, Trinidad and Tobago
"Their commitment to going beyond the script to find the best way to tell a story is only part of how jtography adds values to the productions in which they are involved. (Their) thoughtful approach to the process is the reason for the consistently high standard we have received from them."
Julie Harris
Head Creative Services, Lonsdale Saatchi & Saatchi
8-10 Herbert Street, P.O. Box 1251, Port of Spain, Trinidad and Tobago
---
Magic Potion
Our formula for success and growth is a mix of attitude/confidence and respect/humility. We dial them up and down like the shutter speed on a camera. We are able to work with sensitive issues and to perform in the toughest environments. We are renowned for getting extremely close to the action producing work where others simply won't go.
---
Stock Licensing
The studio boasts a massive legacy in photography and HD video from the pulse of Caribbean fashion, carnival, events, sports, underwater and stock landscape. We regularly source images and footage for media projects and we continue to connect clients to photographers and filmmakers throughout the region. To get started simply contact the studio
---
Contact Trinidad & Tobago (studio)
AOS / jtography Ltd.
10 Nook Ave.
St. Anns, Trinidad W.I.
Tel.: 868-222-5100
Email   |   Social   |   Vimeo
Contact USA (distributions)
JA Media Connections
455 Thorntree Lane
Ridgeway
SC 29130
Tel.: 803-351-0223
Email   |  Web
Canada (contact)
Mark Tang
Tel.: 416-527-5181
Email
---